WebOrder™ Online Ordering System for Restaurants
Integrating online ordering with your Prism point of sale system is critical for growing your business


WebOrder and Your POS System = Online Ordering for Desktop and Mobile Devices
Today, offering online ordering is crucial. With Microworks Prism WebOrder™ you get the power of a custom branded online ordering portal for desktop, iPhone, or Android mobile devices. WebOrder is available where your customers are—at home, on the go, at work—simply everywhere.
It's Friday night and the family is deciding on what food to order for board game night. They're asking each other, "what are you in the mood for?" And someone says, "let's look at the menu."
If you don't provide those customers with the ability to view your menu and order online, you're potentially losing sales. When hunger strikes, you want to be the one they order from. When they ask "what's for dinner?" you want to be on your customers' desktop and mobile devices, with your menu, pictures of food, and a convenient button for them to click to order.
---
Tightly Integrated with Prism POS
WebOrder Mobile ordering combines your store-side menu setup and pricing rules with the functionality of our full browser-based ordering portal, while giving your customers the ultimate convenience of anywhere anytime ordering.
Favorite order recall
Detailed new order creation
Customer registration
Store location
Mobile specials
Credit card payment
---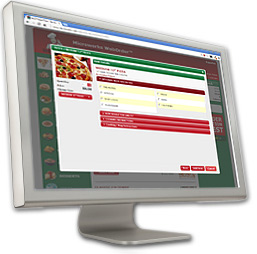 In a GrubHub World, Provide What Your Customers' Want at a Fraction of the Cost
It's more common than ever for restaurants to offer online ordering and delivery. WebOrder is an advancement to pick-up and delivery automation. Microworks Prism WebOrder™ is an invaluable component of our complete end-to-end solution that allows your customers to create and pre-pay for their orders via their favorite web and mobile browser.
Your customers will have a simple and secure way to manage their orders while you maintain a single shared credit card batch with your stores POS system. All Web orders are automatically transferred to your stores POS system and will trigger all of the same events as an order taken in your store. Kitchen printers will fire and makeline, driver and ordering stations will immediately reflect any web activity.
Orders can be placed for immediate attention or queued for delivery or pick-up later.
Prism Notification Service – Enhanced Communication via SMS
Prism Notification Service is an easy way to communicate via SMS messaging between restaurants, customers, and delivery drivers. With curbside pick-up, increasing number of delivery orders, and contactless order options, SMS text messaging is crucial. .  
The flexibility and functionality of the Prism Notification Service allows it to be used in single and/or multi-location food establishments. It enhances Prism POS systems to provide simple and effective communication for order tracking and routing.
Notifications can be sent:
when an order is created / confirmed.
when the order is ready for pickup.
to respond when a customer texts "HERE" when they arrive for their curbside pickup.
when the order is going out of the restaurant for delivery.
when the delivery has arrived at the customers door .
with predefined or custom messages, for any reason, at any time.
Driver communication is both automated and as needed via the RapidRun Delivery App. This is especially important for contactless deliveries. Drivers can let the customer know the order was delivered with an SMS text notification. Once delivered, RapidRun will automatically text the next order on the list that their food is on the way.  
Seamless Upgrade to Your Store-Side POS System
Microworks WebOrder uses all of the same menu and location settings that are pre-programmed into your store POS system. This means that standard features like specialty include lists and advanced pricing options are seamlessly transferred to the web configuration.
Modifier selections can be properly validated and additional topping selections charged. WebOrder will instantly remove bottlenecks from your ordering process by allowing more of your customers to reach you during critical high volume periods while at the same time increasing your average ticket price by over 20%.
Prism WebOrder Has Convenient Payment & Delivery Options
Pick-Up and Pay
Pre-Pay and Pick Up
Pre-Pay and Delivery
Delivery and Pay at the Door
Contactless Delivery
Curbside
Provide your customers the convenience of online ordering with an unmatched end-to-end technology solution that's backed by a company with over three decades of proven POS experience? Try it today!
Online Ordering - Touchless Take-Out and Delivery
Product Resources