Fully Integrated Digital Surveillance
Integrate Video Surveillance to Prevent & Record Theft


Powerful, Affordable, Network Video Recorder for POS Systems
Prism Integrated Digital Surveillance or Network Video Recorder (NVR) is the perfect marriage of Point of Sale system and Digital Video Recorder technology. An integrated NVR eliminates antiquated VHS tape systems without the additional expense of a stand-alone network video recording system.
The ability to leverage today's multi-core server technology as both POS network server and NVR server provides high-performance digital surveillance features at an affordable price.
POS Surveillance System Benefits:
Integrates Easily – with Prism Point of Sale system transaction logs
Image Quality – High resolution cameras
Modular – Install multiple video cameras for up to 16 video feeds
Video Compression – saves hard disk space and allows for longer video storage
Cloud Based – Allows access to video from remote desktop or mobile devices
Video Text Overlay – Contains all POS order detail to eliminate discrepancies
---
Modular Cameras and Video Feeds
Cameras can be ceiling, wall or exterior mounted and have a preset zoom and focus that provides sharp, clear video clips. The modular design of the NVR server allows anywhere from one to sixteen simultaneous video feeds  to be written directly to disk while providing live access to streaming video from any web-browser or directly viewed from the in-store server.
The browser based user interface allows direct secure access to multi-channel video from anywhere with web-access, this can include other store locations, offices, or home computers.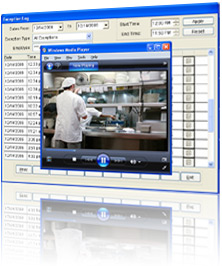 POS Video Feed Integration
Linked to POS System – Tight integration also allows each POS station to be logically linked to its closest camera so all video clips for a specific day / time segment at a particular POS station can be quickly and easily accessed as well.
Video Text Overlay – Another powerful option for NVR integration is video-text-overlay. Any printer or customer display pole can be logically split and redirected to the video feed for a specific camera. This allows a cameras video stream to also contain all of the POS activity from its POS station and eliminates any guessing as to what was actually rung up on an order.
Quick Access to Digital Video Clips
The Microworks Prism Integrated NVR will not just store countless hours of video, it provides the tools necessary to catalog and index each video segment and links each directly back to the system event log. For example, if you want to see who canceled a specific order at an exact date and time, you can filter the System Event Log for that date and time and simply click the video icon and you will be quickly presented with that video clip viewed with Windows Media or other system media player.
Online Ordering - Touchless Take-Out and Delivery
Product Resources