Prism Restaurant POS System
Streamline and Automate Management, So You Can Focus on What Matters Most—Hospitality

Why Prism POS for your Restaurant?
Prism POS not only replaces your old cash register and time clock, it becomes your bookkeeper too. With a point of sale system from Microworks it's easy to automate every-day tasks and simplify management and operations.
Just Some of the Benefits of a Prism Restaurant POS Solution:
Customized for Your Menu and Modifiers
Easy Custom Table Layouts
Detailed Cash Control options for Servers and Tills
Advanced Options to Manage and Control Split Checks
Integrated Card Processing
Multiple Tenders/Tips and
Fully integrated Gift and Loyalty Programs
Track and Report on Inventory and Food Costs
Detailed Recipe Cost Management
Advanced Delivery Management
---
POS Dining and Table Service Features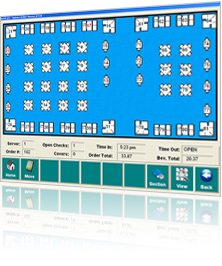 Customizable Table Layouts for Single or Multiple Sections of Your Facility
This allows your staff quick access to the status of any order or table in your facility. Just touch any unoccupied table to create a new order or add items to an existing order if the table is seated.
Bar to Table
Customizable table layouts also allow bartenders to quickly open, close or add items to a check based on the customer's position at the bar. If desired, any check that has been opened at the bar can be easily transferred to a table in another section.
Table Status in Real Time
Server
Guests
Open checks
Time in/out
Food total
Beverage total
---
Split Checks and Integrated Credit Card Processing
Simplifies Creating Single or Split Checks at Tables
Splitting checks has never been easier— just touch the item to split on the original check and then touch the check to transfer the item to.
Create additional checks before or after an order has been processed.
Integrated Credit Card Processing
✔ Servers can swipe credit cards into any available POS station.
✔ Fully integrated credit card authorization
✔ Prism POS allows multiple tenders and tips to be used on a single check.
✔ Split checks are settled independently of each other allowing single or multiple credit cards to be used for each check.
---
Gift and Loyalty Cards
Convenient Electronic Gift Cards
Whether you have a single location or are a multi-store operator or franchise, Prism POS has a gift card or loyalty card-setup style that will work for you.
Single store operators can take advantage of the simplicity of gift card account information being stored locally. While multi-store operators can optionally implement the flexibility of a web based account database where customers are allowed to purchase or redeem their cards at one of many locations.
Loyalty award points can be accumulated in a variety of ways at any store location and redemption monitored and validated.
Integrated Add-On Restaurant POS Features
High Speed Credit Card Validation
RapidRun Driver Mobile App for Directions and Payment
Employee Card or Fingerprint ID
Online Ordering - Touchless Take-Out and Delivery
Product Resources