Delivery POS Perfected
With a Microworks POS System for In-House,Take-Out, Curbside, or Delivery, You're in the Driver's Seat
Online Ordering - Touchless Take-Out and Delivery
What Can our POS System Do for Your Restaurant?
Help your business thrive! Prism Restaurant POS from Microworks increases staff efficiency, coordinates take-out and delivery management, and is the end-to-end solution to keep you and your staff focused on what matters. From pizzerias, casual dining, to full-service and multi-unit franchises, a POS System from Microworks has everything you need to stay on track. And with current changes to how you do business, communication between store, staff, customer and delivery drivers is crucial.
Prism Notification Service – Seamless Communication via SMS
Prism Notification Service enhances Prism POS systems with an easy way to communicate via SMS messaging. With curbside pick-up, increasing number of delivery orders, and contactless order options, SMS text messaging is necessary.
The flexibility and functionality of the Prism Notification Service allows it to be used in single and/or multi-location food establishments.
With a POS System from Microworks you run your restaurant—don't let it run you.
Rock Solid POS Reliability
Tightly Integrated Online Ordering
Cloud-Based Enterprise Management
Total End-to-End Solution
Advanced Delivery Management
Fully Integrated Digital Mapping
Real-Time Driver Tracking
Mobile Driver Assist and Payment App
Real-Time Multi-Location Reporting
Track Food Cost and Inventory Levels
Labor Cost Analysis
Knowledgeable and Accessible Support

Let employees focus on what matters—customer service and restaurant management.
Point-of-Sale systems backed by more than three decades of customer driven innovation, Microworks Prism POS offers an ideal POS for Pizzeria's, dining, take-out and delivery.
A complete end-to-end restaurant management and franchise automation solution, Prism is POSitively the Essential Ingredient for Total Efficiency.
Ask us about our custom web design and graphics services!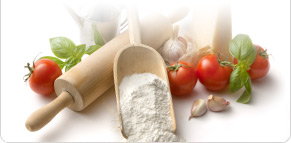 Web & Mobile Orders:
Increase your sales by making ordering secure and convenient for your customers—wherever they are.
WebOrder desktop or mobile ordering combines your store-side Restaurant POS or Pizza POS menu setup with the functionality of our intuitive device independent user interface.
WebOrder seamlessly integrates with your store-side system by using your existing menu and pricing rules.
Responsive design allows orders from any Desktop or Mobile Device.
Demo Now! Or find out more about WEB ORDERING POS ››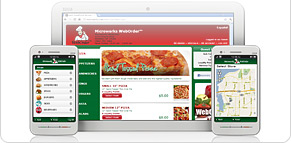 Single or Multi-Unit POS:
A complete, automated Restaurant POS solution, freeing staff to focus on hospitality.
Prism POS not only replaces your restaurant cash register, time clock, and bookkeeper, it also provides the platform to completely automate every aspect of your operation. From single unit to multiple franchise locations, Prism is a complete Enterprise Management POS System.
Computerized ordering can dramatically reduce the time required to place an order, freeing up staff to cater to the needs of your customers.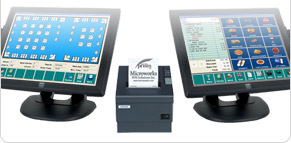 Why Microworks?
Unequaled Price and Performance
Knowledgeable and Accessible Support
More Than Three Decades of Innovation
Time Tested/Field Proven
Custom Tailored POS Solutions
We work with you hand-in-hand to provide a system that meets your exact specifications. Call today to discuss how Microworks can create the perfect restaurant POS system to meet your needs.
Add WebOrder to your Restaurant POS. Online ordering enhances management and delivery, as well as increases sales, all while adding convenience for your customers.
Get a Quote! Call (800) 787-2068, or Contact Us via email.
Customer Reviews
The businesses below represent a portion of the Microworks client base. For additional references and product testimonials contact us.
Integrated Options for Prism POS Systems